About Us
Bad Influence Sport Fishing on Cape Cod and Newport has been providing its customers with some of the best of Cape Cod fishing and its offshore waters have to offer. Whether you want to catch jumbo Porgies and Sea Bass in the Spring and Fall, Striped Bass, Bluefish, Fluke in the Summer, or Tuna from June to November, Bad Influence Sport Fishing will ensure that you will have a memorable experience.
The Captain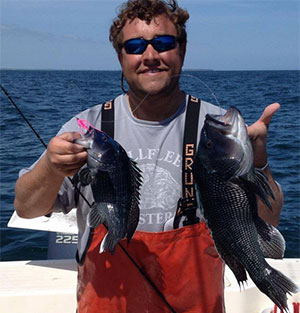 Captain Jeff Viamari, a graduate of Tabor Academy and Union College, has been obsessed with fishing since the age of 5 which led to his first mate job at the age of 12 and the rest is history. Capt. Jeff has extensive experience in being a mate on some of the top boats fishing Cape Cod and Rhode Island and is an experienced commercial fisherman fishing for strippers, tuna, and select inshore species.   He has both a USCG Captain's license #3491814 and a Master 100 Gross Ton License and is fully insured as well as CPR certified. My commitment to my customers is to first have a safe trip and second to work hard to find fish.
The Captain has an extensive fishing background catching both in inshore and off-shore species, let it be black fish and fluke to blue fin tuna in the canyons.  When he is not taking customers out fishing, you can always find him on the water.
The Boat
The Bad Influence is a 35′ Five Islands with a 420 hp Cat Diesel engine. She cruises at 17 kts and houses a generator. The boat was completely redone in 2012 and a new engine was put in the Spring of 2017.  The boat features an enclosed bathroom, 4 bunks, a kitchenette and seating in the cabin.