Targeting The Fish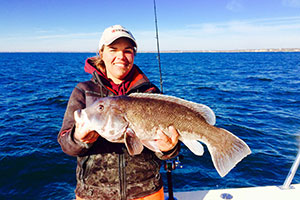 The Bad Influence actively targets areas where there is the best concentration of fish activity. Fish are migratory and move around a lot and there are so many different variables that need to be taken into consideration in order to catch them; wind, bait, water temperature and tides, just to name a few. A good Captain uses this information to increase your chances to catch fish.
Types of  Trips
The Bad Influence actively targets areas where there is the best concentration of life, increasing your chances dramatically of having a successful fishing trip. This provides for a much more exciting day as many areas are covered encountering more things to see, and hopefully more fish to catch! Captain Jeff Viamari operates full time in season from April to November and caters to fisherman of all skill levels looking for a productive captain that works hard while striving to insure your day is safe, fun, and memorable.
Spring Porgy/Sea Bass fishing
Come and experience the excitement of Porgy fishing in Hyannis. This time of year the scup return to Hyannis to spawn. The fish are located less than 20 minutes from the dock which allows for maximum fishing time. With this trip you can expect to catch porgies and sea bass. It is not uncommon to get a limit of both!  When the boat limits out on scup we go on the hunt for black sea bass.
Nantucket Fluke Fishing
Fluke or Summer Flounder inhabit the waters around Cape Cod from late June through September. We target fluke in the rips around Nantucket that are seldom fished by recreational anglers.  It is not uncommon to land a trophy fluke over 8 pounds. We focus on fluke for the beginning of the trip then head inshore for some sea bass fishing.
Striped Bass fishing
From early June thru November, Striped Bass inhabit the waters surrounding Cape Cod. We target Striped Bass using light tackle to maximize enjoyment for beginner to seasoned anglers alike. This trip is excellent for families and seasoned anglers alike
Tuna Fishing
Starting in early June the Bad Influence targets Bluefin Tuna. We can customize your tuna fishing trip to meet your needs. Whether you want to troll or tackle a giant using spinning gear we have the ability to meet your request.
Tautog/Black fishing
These hard fighting fish return to our waters in early spring and the fall. We target these fishing using green crabs and conventional gear.  Captain Jeff fishes the Massachusetts waters in the Spring and early Fall. In November, we move the boat to Newport, Rhode Island to take advantage of the increased bag limit.